Main sources of lightning are cumulonimbus clouds which are developed from the hot and humid air raising from the ground in the summer. Clouds can have infinite variations of shape but meteorolgy divides cloud formations in 3 categories: cirroform, stratiform and cumuliform clouds:
Cirroform clouds are at or higher than 5 kilometers altitude, its "long threads" are formed by ice crystals. These clouds are mainly connected by approaching warm fronts.


Stratiform clouds are mainly at about 2-5 kilometers, they are mainly developed by winds and connected to fronts (mainly warm fronts). If they are very thick, they can cause rain or snow but not lightning.


Cumuliform clouds appear from the 600 meters altitude and can rise up to 15 kilometers altitude. They are the main sources of lightning storms.


In the beginning, cumuliform clouds are flat from sides, but from below, they look like cotton. Their meteorological name is cumulus humilis.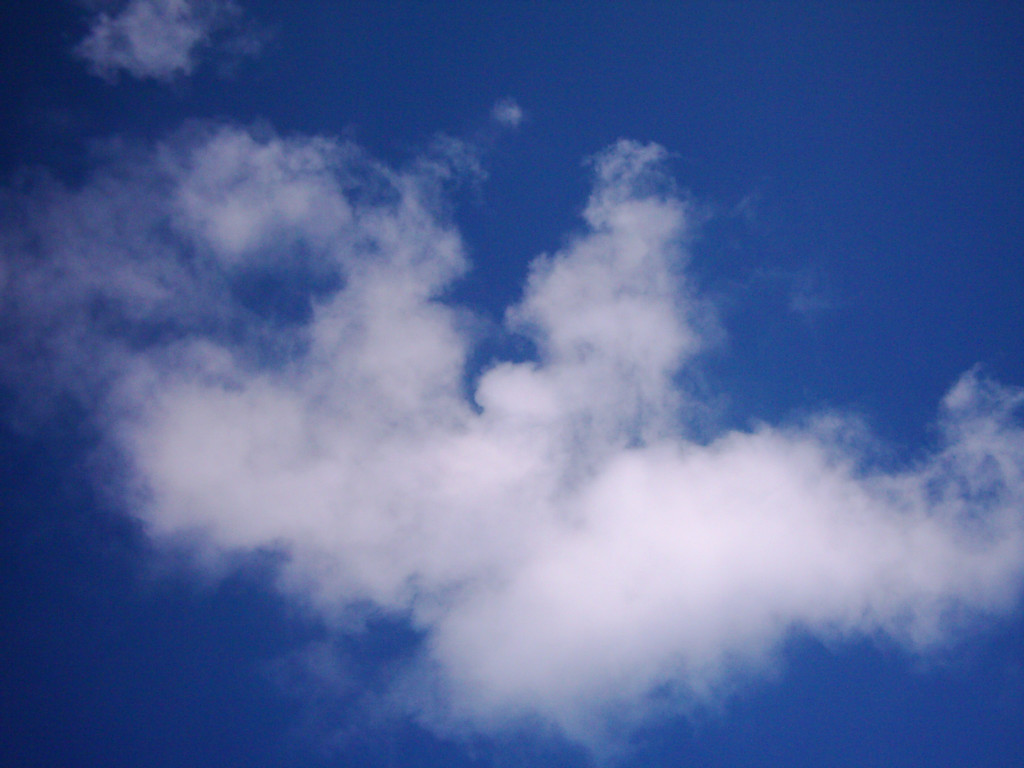 Animation video: http://www.youtube.com/watch?v=PRD0W0kJgNE
In the cloud development, humidity, temperature and pressure play important roles. These clouds are made of tiny fluid water droplets. They have a very short life-cycle, they disappear 5 minutes after appearing.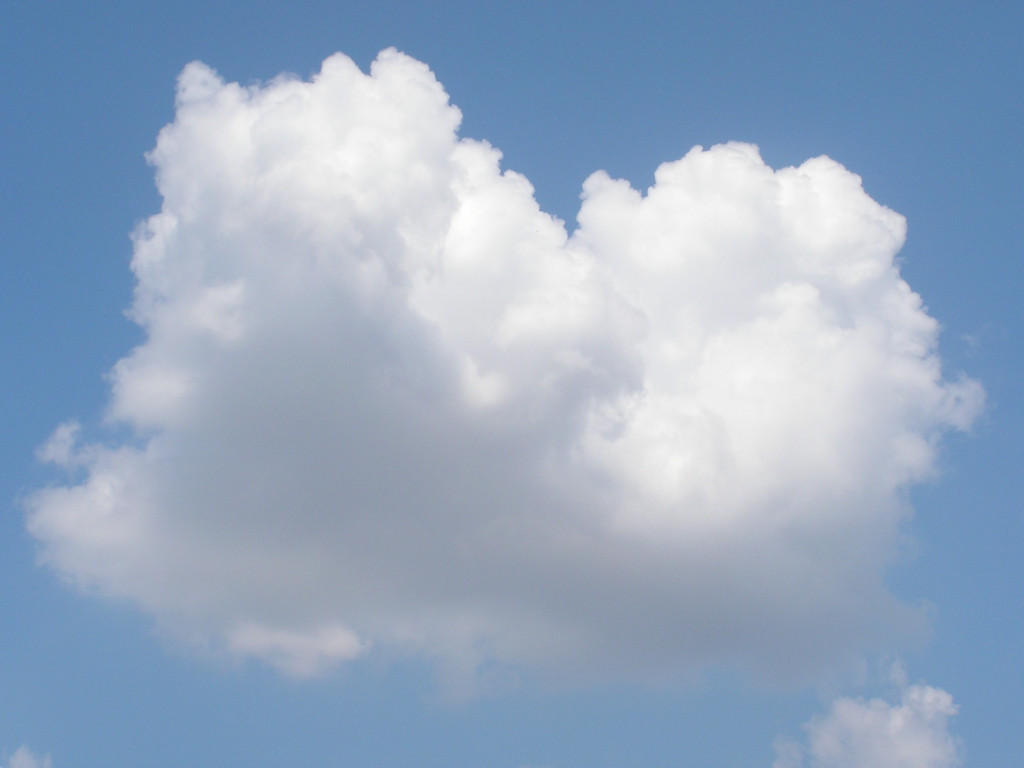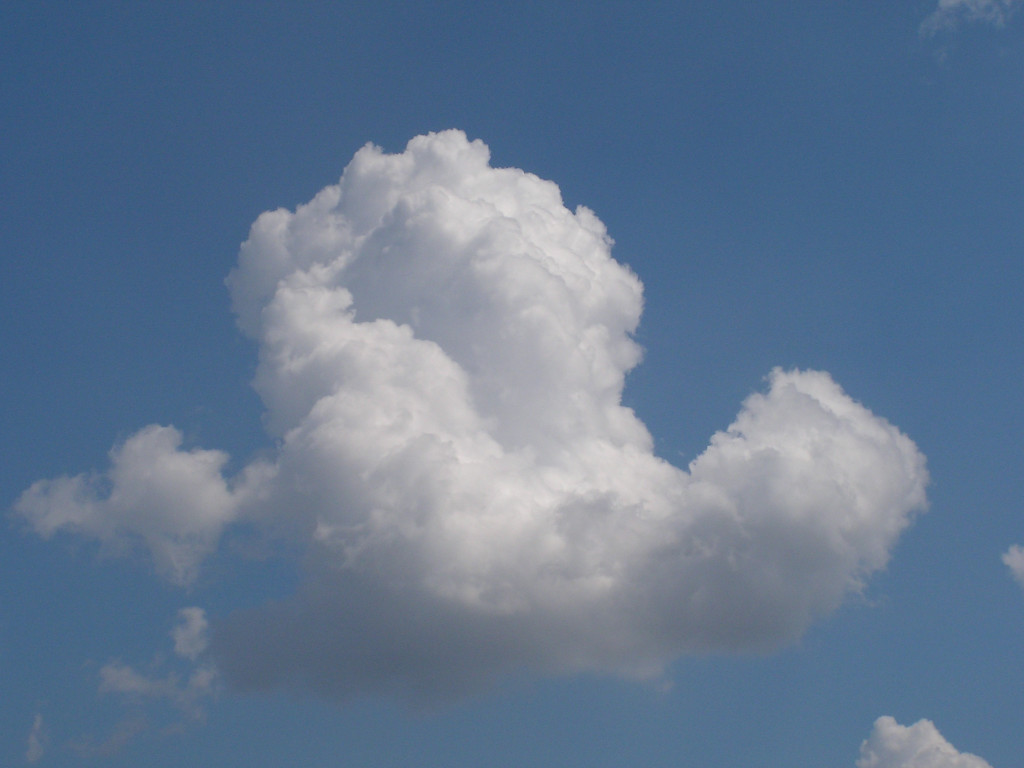 Animation video: http://www.youtube.com/watch?v=d3D243e2f1s
As humidity level of the atmosphere rise and the temperature of the upper layers of the atmosphere falls (temperature difference between lower and higher regions rise) the clouds growing larger and you now can see the cauliflower shapes of the cloud tops. This is now called cumulus mediocris. However the temperature of the clouds fall to the temperature of the surrounding air, this means the updraft run out of force. The remaining humidiy makes the cloud heavier than the surrounding, so it falls back a little and its humidity evaporates back into the air. These clouds still don't exist longer than 15-20 minutes.
If moisture of the air is raising and the upper atmosphere temperature is falling even more, cumulus clouds will tower to even higher altitudes, they become cumulus congestus. And something else will be happening: All of the clouds create their own flow system in the atmosphere. Huge vortices appear and these will sometimes weaken, sometimes strengten each other. The cumulus clouds are a very little visible parts of these vortices.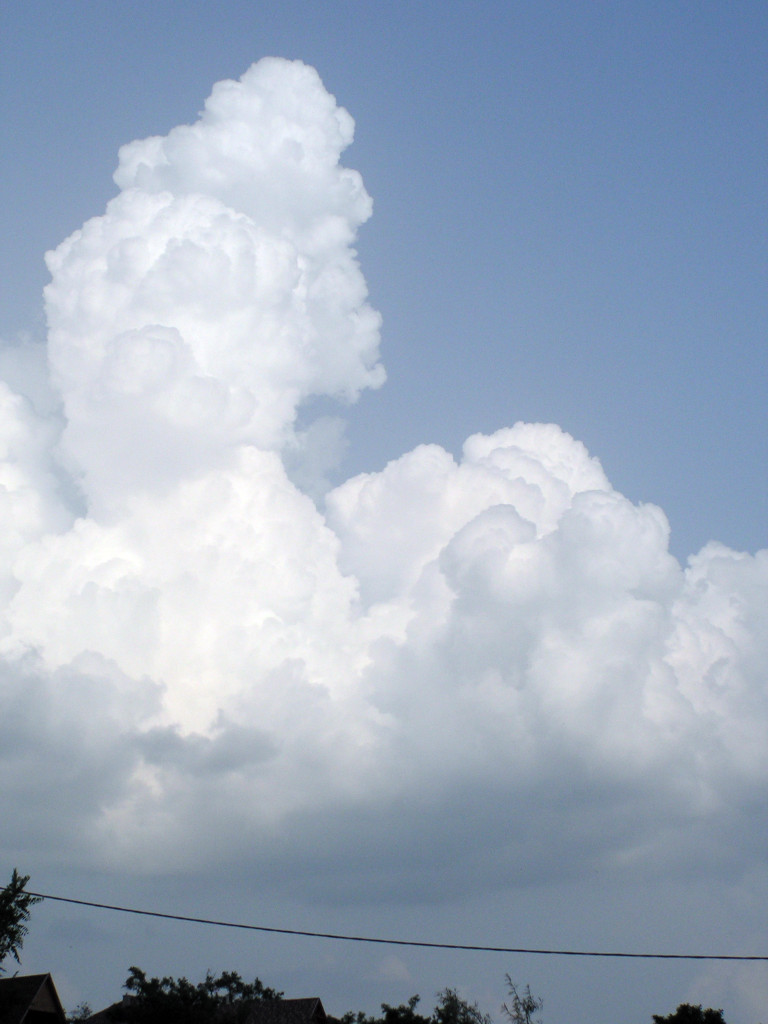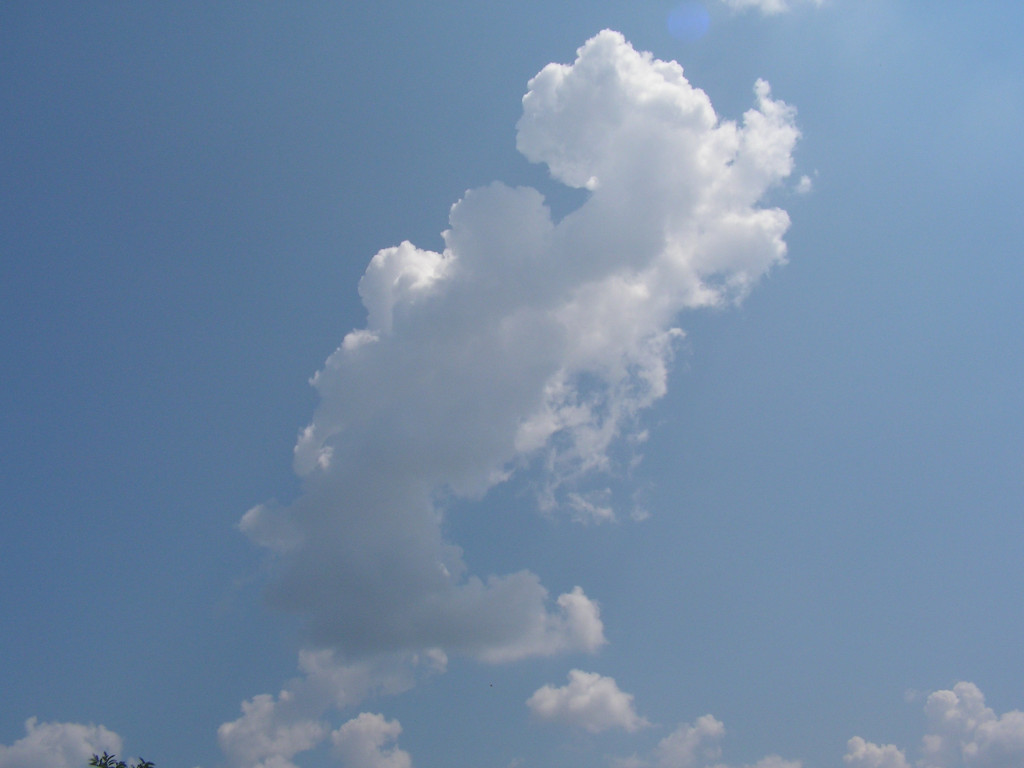 From this time, cloud development is supported not only the warm moist air updraft from the ground but by these vortices and even by the cloud development itself as well. Cloud development is condensation (the steam becomes fluid water) which releases latent heat and this additional heat make more air raising up. From this time clouds won't disappear, but a chain-reaction is beginning that supports clouds with even more heat and moisture from below. Below the cloud, air pressure lowers and people who staying there will experience effects similar to the warm fronts. This is the typical 'calm before a storm' period.
Looking up to the sky, you will see huge 'cauliflowers', columns of cumuli and thickened clouds. The storm is now about to break: one of the clouds is being launched with the speed of more than 100 km/h!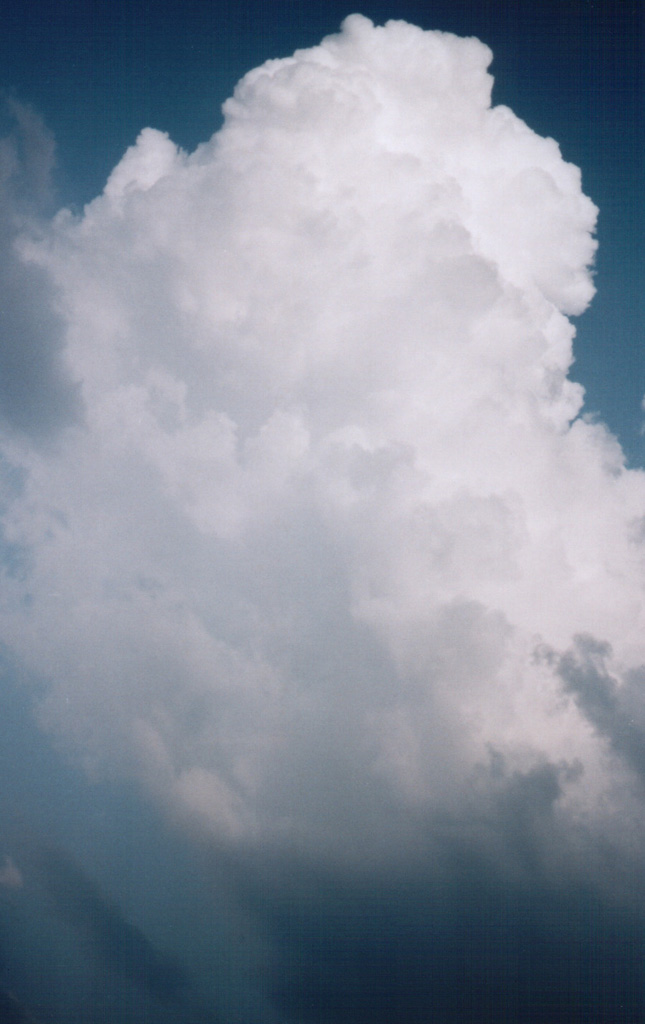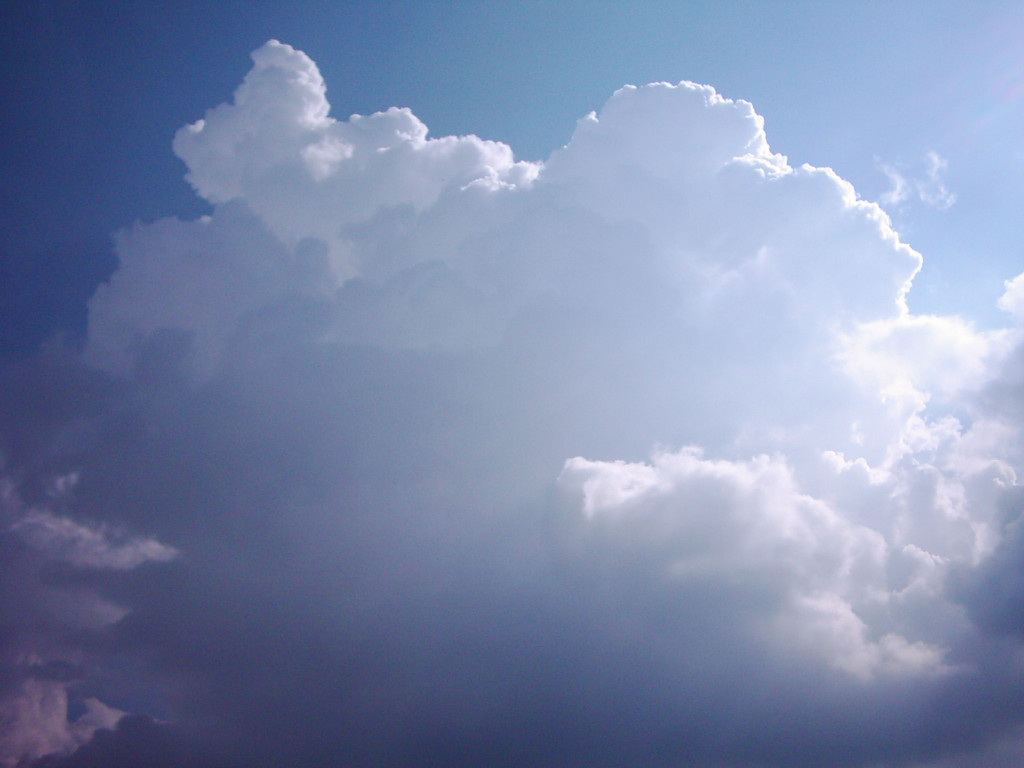 The top of the cloud hits the tropopauza and now contains ice crystals instead of water droplets. This is called now cumulonimbus, thunderstorm cloud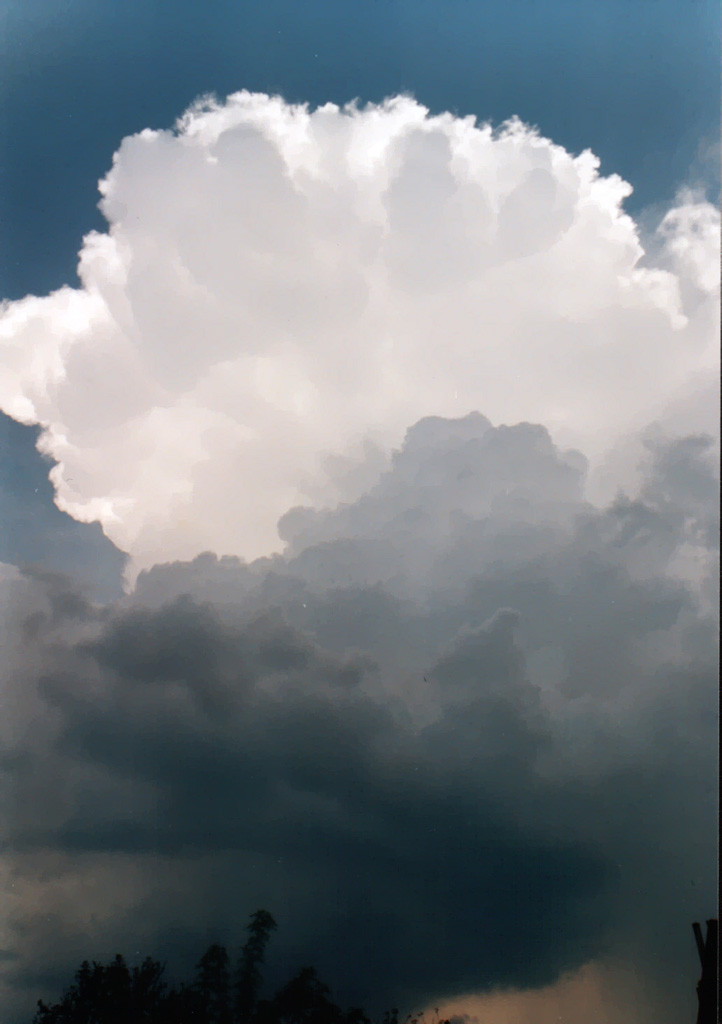 The top of the thunderstorm spread off in every direction. At first the cloud is shaped like a mushroom, later is shaped like an anvil. The ice particles inside the cloud will coheres to each other, becoming larger and larger until they fall into the updrafting water droplets. Hitting and rubbing each other makes they get electrically charged. Everything is ready to the lightning! You can read about the lightning here. Scientists still don't know exactly what the initial moment of the lightning strike is. Today, they say cosmic rays from star explosions (supernovas) are responsible for it. But in my opinion this theory can't explain lightning inside the 200-300 meters high volcano cloud columns!: http://www.youtube.com/watch?v=6gW-Txy8pmc